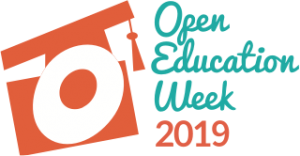 The goal of Open Education Week – founded by the Open Education Consortium in 2013 – is to raise awareness and showcase impact of open education on teaching and learning worldwide.
During the course of the week from the 4th until the 8th of March 2019, people and institutions from all over the world organised and attended face to face and online events and shared resources to honour the traditions of knowledge sharing and creation with 21st century technology.
On Friday (8 March) KIC devoted a 60 minute free webinar to introduce and discuss the developments and latest achievements of 2 of its Erasmus+ co-funded projects, namely OEPass and MicroHE, focusing particularly on the Learning Passport and the Credentials Clearinghouse.
The presentation slides are freely available to consult, and the recording of the webinar will be converted into a video lecture and published soon as well. Until then the raw material can be downloaded from here.